if you're not familiar with this mii...
Skip It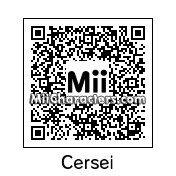 Created by: Andy Anonymous
From the "Song of Ice and Fire" novels by George R. R. Martin, as played by Lena Headey in the HBO TV adaptation "Game of Thrones". Queen to King Robert, sister to Tyrion and to Jaime, with whom she has an incestuous love affair. Ambitious and severe.
Categories: TV
Created on the: Wii U