if you're not familiar with this mii...
Skip It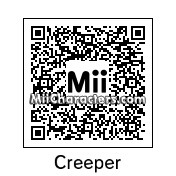 Created by: MarktheModder
Creepers (creepus Explodus) are one of the most unique and iconic hostile mobs found in Minecraft. A Creeper can easily be recognized by its tall vertical structure (roughly the size of a player), green, pixelated skin, and four legs.
Categories: Games
Created on the: Wii U