if you're not familiar with this mii...
Skip It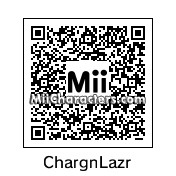 Created by: Killer is cool
Internet meme also known as "I'M A' FIRIN' MAH LAZER!!" or sometimes "I'M A' CHARGIN' MAH LAZER". It's a modified image of Cell from Dragon Ball Z before he shoots a sudden and powerful laser beam out of his mouth.
Categories: Miscellaneous
Created on the: 3ds