if you're not familiar with this mii...
Skip It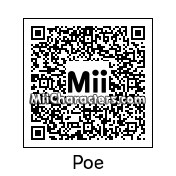 Created by: Andy Anonymous
American author, poet, critic, and one of the earliest writers of the horror, mystery, and sci-fi genres of fiction. Edgar Allan Poe is most famous for his poem "The Raven" and short stories such as "The Tell-Tale Heart" and "The Masque of the Red Death".
Categories: History
Created on the: Wii U