if you're not familiar with this mii...
Skip It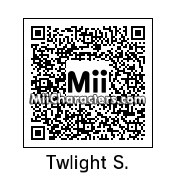 Created by: Kookaman725
A main character of "My Little Pony: Friendship is Magic". Twilight Sparkle is a purple Unicorn pony and became an Alicorn in the episode "Magical Mystery Cure". Her cutie mark is a six-pointed star with five smaller stars.
Categories: Toons
Created on the: Wii U