if you're not familiar with this mii...
Skip It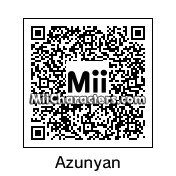 Created by: NXperience
From the anime "K-ON!" Azusa is a self-proclaimed novice guitarist who has been playing the guitar since the fourth grade because her parents play in a jazz band. Despite her low self-esteem and modest attitude, she is extremely talented.
Categories: Toons
Created on the: 3ds