if you're not familiar with this mii...
Skip It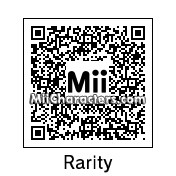 Created by: godehteikooc
She is one of the main characters in "My Little Pony: Friendship is Magic". Rarity works as both a fashion designer and as a seamstress at her own shop in Ponyville, the Carousel Boutique. Rarity represents the element of generosity.
Categories: Toons
Created on the: Wii U