if you're not familiar with this mii...
Skip It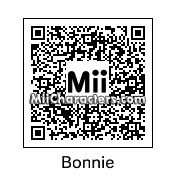 Created by: SoopaKoopa
The Sister of Pokemon X & Y's Lumiose City Gym Leader, Clemont. In the Pokemon Anime, Bonnie travels with her brother and Ash and is always trying to hook him up with girls. She is sort of a loud mouth and she carries around her brother's Dedenne.
Categories: Games
Created on the: 3ds