if you're not familiar with this mii...
Skip It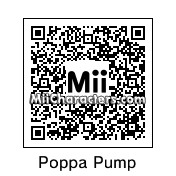 Mii Plaza Name: Poppa Pump
Created by: JasonLives
Wrestler with a bodybuilder's physique best known for his time with WCW. Member of the Steiner Brothers and the NWO. Also known as "Big Poppa Pump", "The Big Bad Booty Daddy", and "The Genetic Freak".
Categories: Sports
Created on the: Wii