if you're not familiar with this mii...
Skip It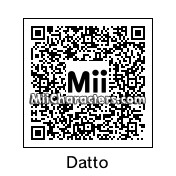 Created by: rhythmclock
A hostile ghost from the anime "Gakkou no Kaidan". It is said that Datto used to train for a race until a car ran him over. Nowadays, he'll try to attack any skilled runners on sight, as long as the time reaches 4:44 PM.
Categories: Toons
Created on the: 3ds