if you're not familiar with this mii...
Skip It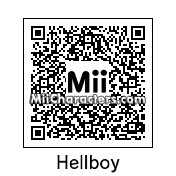 Created by: Andy Anonymous
A comic book and movie character created by Mike Mignola. Hellboy is a demon who works as a cigar smoking, trench coat wearing fighter of supernatural threats. He files down his horns to fit in with humans. Played in the films by Ron Perlman.
Categories: Toons
Created on the: Wii U