if you're not familiar with this mii...
Skip It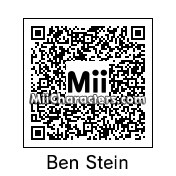 Created by: Andy Anonymous
"Bueller? Bueller?" Ben Stein went from being a lawyer and speech writer for President Richard Nixon to being an actor. His dry delivery is most famous in "Ferris Bueller's Day Off" and the TV series "Win Ben Stein's Money".
Categories: Stars
Created on the: Wii U