if you're not familiar with this mii...
Skip It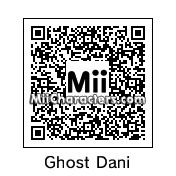 Created by: GhostGirl567
The younger, female clone of Danny Phantom from the Nickelodeon cartoon "Danny Phantom." She is 12 years old and created by the villain Vlad. Known as Danny's cousin (despite no real family relationship) she is half ghost-half human just like Danny.
Categories: Toons
Created on the: 3ds