if you're not familiar with this mii...
Skip It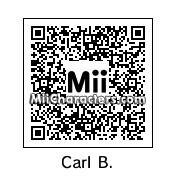 Mii Plaza Name: Carl B.
Created by: Toon and Anime
Carl is the next door neighbor to the Aqua Teen Hunger Force. This tends to cost him the use of his pool, car, home and more than a little blood on a daily basis.
Categories: Toons
Created on the: Wii