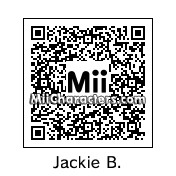 Mii Plaza Name: Jackie B.
Created by: Tocci
Shallow and self-centered cheerleader from "That '70s Show". Played by Mila Kunis.
Categories: TV
Created on the: Wii
Miitomo Instructions:
Start a new character from scratch and make these changes.
Gender
Female
Head
Skin Color: 2nd row, 1st column
Hair
Part: Flipped
Eyebrows
Color: 1st row, 1st column
Vertical: 1 down
Eyes
Color: 2nd row, 2nd column
Rotate: 2 clockwise
Horizontal: 1 wider
Vertical: 2 up
Nose
Size: 2 smaller
Mouth
Size (1st tab)
Height: 68%
Weight: 21%
Click "Next"
Nickname
Jackie B.