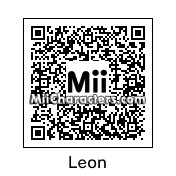 Mii Plaza Name: Leon
Created by: LYJ12
A chameleon member of the Star Wolf mercenary team in the "Star Fox" video games. Ignore the hair to see the outline of his lizard head. "Andross has ordered us to take you down."
Categories: Games
Created on the: Wii
Miitomo Instructions:
Start a new character from scratch and make these changes.
Gender
Male
Hair
Color: 2nd row, 1st column
Eyebrows
Color: 1st row, 1st column
Eyes
Color: 2nd row, 2nd column
Rotate: 3 counterclockwise
Vertical: 4 down
Nose
Vertical: 3 down
Mouth
Size: 1 bigger
Vertical: 5 down
Glasses
Type: 2nd row, 2nd column
Size: 1 smaller
Vertical: 1 down
Size (1st tab)
Height: 65%
Weight: 64%
Click "Next"
Nickname
Leon
Birthday
May 30th