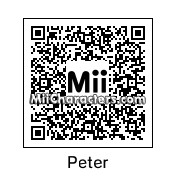 Mii Plaza Name: Peter
Created by: rababob
From the series Heroes, Peter has the ability to absorb any superpower just by being near someone with an ability. A true hero at heart, he is one of the main good guys on the show. Played by Milo Ventimiglia.
Categories: TV
Created on the: Wii
Miitomo Instructions:
Start a new character from scratch and make these changes.
Gender
Male
Head
Make-Up: 1st row, 6th column
Hair
Eyebrows
Color: 1st row, 1st column
Rotate: 1 clockwise
Size: 1 bigger
Horizontal: 1 narrower
Vertical: 1 up
Eyes
Size: 1 smaller
Horizontal: 1 wider
Vertical: 2 up
Nose
Size: 1 bigger
Vertical: 4 up
Mouth
Vertical: 1 up
Size (1st tab)
Height: 39%
Weight: 34%
Click "Next"
Nickname
Peter
Alternative Miis