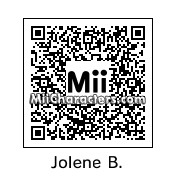 Mii Plaza Name: Jolene B.
Created by: celery
Actress best known for playing the sexy Vulcan T'Pol in Star Trek: Enterprise.
Categories: Stars
Created on the: Wii
Miitomo Instructions:
Start a new character from scratch and make these changes.
Gender
Female
Head
Type: 2nd row, 5th column
Facial Structure: 1st row, 5th column
Skin Color: 1st row, 3rd column
Hair
Color: 1st row, 4th column
Eyebrows
Color: 2nd row, 3rd column
Horizontal: 1 wider
Vertical: 1 up
Eyes
Color: 2nd row, 1st column
Size: 1 smaller
Horizontal: 4 wider
Vertical: 2 up
Nose
Size: 2 smaller
Vertical: 1 down
Mouth
Size: 1 bigger
Vertical: 2 down
Mustache
Type: 1st row, 2nd column
Size: 4 smaller
Vertical: 6 down
Mole
Add a mole
Size: 1 bigger
Horizontal: 6 right
Vertical: 8 down
Facial Hair Color
Color: 2nd row, 3rd column
Size (1st tab)
Height: 55%
Weight: 16%
Click "Next"
Nickname
Jolene B.