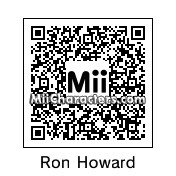 Mii Plaza Name: Ron Howard
Created by: Zooter
Former star of "Happy Days" and "The Andy Griffith Show" turned renowned director. Movies include "Splash", "Cocoon", "Apollo 13", "A Beautiful Mind", "How the Grinch Stole Christmas", and "The Da Vinci Code".
Categories: Stars
Created on the: Wii
Miitomo Instructions:
Start a new character from scratch and make these changes.
Gender
Male
Head
Facial Structure: 2nd row, 6th column
Skin Color: 2nd row, 1st column
Hair
Color: 1st row, 4th column
Eyebrows
Color: 1st row, 4th column
Rotate: 3 clockwise
Size: 1 bigger
Horizontal: 1 narrower
Eyes
Rotate: 2 clockwise
Size: 1 smaller
Vertical: 1 up
Nose
Vertical: 3 up
Mouth
Vertical: 1 up
Mustache
Type: 2nd row, 2nd column
Size: 3 bigger
Vertical: 2 up
Beard
Type: 1st row, 2nd column
Facial Hair Color
Color: 1st row, 4th column
Size (1st tab)
Weight: 3%
Click "Next"
Nickname
Ron Howard