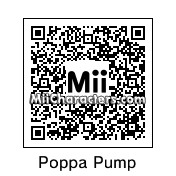 Mii Plaza Name: Poppa Pump
Created by: JasonLives
Wrestler with a bodybuilder's physique best known for his time with WCW. Member of the Steiner Brothers and the NWO. Also known as "Big Poppa Pump", "The Big Bad Booty Daddy", and "The Genetic Freak".
Categories: Sports
Created on the: Wii
Miitomo Instructions:
Start a new character from scratch and make these changes.
Gender
Male
Head
Type: 2nd row, 4th column
Skin Color: 1st row, 3rd column
Hair
Color: 2nd row, 4th column
Eyebrows
Color: 2nd row, 4th column
Rotate: 1 clockwise
Size: 1 bigger
Vertical: 1 up
Eyes
Rotate: 2 clockwise
Size: 4 smaller
Vertical: 3 up
Nose
Size: 1 bigger
Vertical: 3 up
Mouth
Glasses
Type: 1st row, 5th column
Color: 2nd row, 2nd column
Mustache
Type: 2nd row, 2nd column
Size: 2 bigger
Mole
Add a mole
Size: 4 bigger
Horizontal: 6 right
Vertical: 7 down
Beard
Type: 1st row, 2nd column
Facial Hair Color
Color: 2nd row, 4th column
Size (1st tab)
Height: 69%
Weight: 81%
Click "Next"
Nickname
Poppa Pump