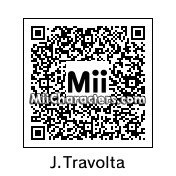 Mii Plaza Name: J.Travolta
Created by: ixi
Actor who made his start with the TV show "Welcome Back Cotter" and movies like "Saturday Night Fever" and "Grease". He's moved on to more mature roles in movies such as "Face Off" and "Pulp Fiction". He's also a scientologist and pilot.
Categories: Stars
Created on the: Wii
Miitomo Instructions:
Start a new character from scratch and make these changes.
Gender
Male
Head
Type: 2nd row, 2nd column
Facial Structure: 2nd row, 2nd column
Skin Color: 2nd row, 1st column
Hair
Color: 1st row, 1st column
Eyebrows
Color: 1st row, 1st column
Size: 4 bigger
Vertical: 2 up
Eyes
Color: 2nd row, 2nd column
Size: 2 smaller
Horizontal: 1 wider
Vertical: 4 up
Nose
Size: 2 smaller
Mouth
Size: 3 bigger
Vertical: 1 down
Mustache
Type: 2nd row, 2nd column
Size: 3 smaller
Vertical: 6 down
Mole
Add a mole
Size: 1 smaller
Horizontal: 6 right
Vertical: 10 down
Facial Hair Color
Color: 2nd row, 4th column
Size (1st tab)
Height: 78%
Weight: 0%
Click "Next"
Nickname
J.Travolta
Birthday
June 1st
Alternative Miis