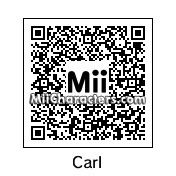 Mii Plaza Name: Carl
Created by: Jose Nintendo
"It's like my pool is tearin' ass around the yard! ...but it's standing still. Still waters run deep." The day the Giants won the Super Bowl in 1991 was the greatest day of his life.
Categories: Toons
Created on the: Wii
Miitomo Instructions:
Start a new character from scratch and make these changes.
Gender
Male
Head
Type: 2nd row, 1st column
Facial Structure: 2nd row, 2nd column
Hair
Color: 2nd row, 2nd column
Eyebrows
Color: 1st row, 1st column
Size: 1 smaller
Horizontal: 1 narrower
Vertical: 1 up
Eyes
Size: 3 smaller
Horizontal: 2 wider
Vertical: 3 up
Nose
Size: 2 bigger
Vertical: 4 up
Mouth
Size: 1 smaller
Vertical: 1 up
Mustache
Type: 2nd row, 1st column
Size: 2 bigger
Vertical: 3 up
Size (1st tab)
Height: 48%
Weight: 100%
Click "Next"
Nickname
Carl
Alternative Miis