Miis by Missy

Mii Plaza Name: VanDriessn
Created by: Missy
David Van Driessen is the hippie schoolteacher of Beavis and Butt-head from the popular cartoon. Voiced by show creator Mike Judge.
Categories: Toons
Created on the: Wii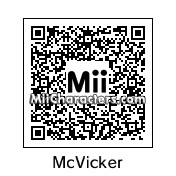 Mii Plaza Name: McVicker
Created by: Missy
The Principal of the school Beavis and Butt-head attend. He shakes and sweats from the extreme tension he suffers as a result of dealing with the two delinquents. Voiced by Mike Judge.
Categories: Toons
Created on the: Wii