Famous Mii Characters & QR Codes
for your Nintendo Wii U, Wii, 3DS, and Miitomo
Search for famous Mii Characters and get printable, step-by-step instructions on how to create them. Scan Mii QR Codes with your 3DS, Wii U, or Miitomo App.
Fill your Mii Plaza with celebrities!
Mii of the Day - Saturday, December 07, 2019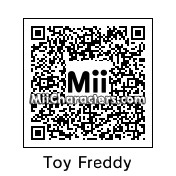 Created by: EvilVamp
The new face of Freddy Fazbear, now more kid friendly! This character from "Five Nights at Freddy's 2" acts almost like his original counterpart.
Categories: Games
Created on the: 3ds