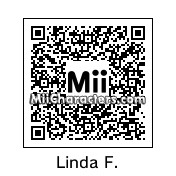 Mii Plaza Name: Linda F.
Created by: Fer
The mom on "Phineas and Ferb". She's the birth mother of Phineas and Candace. Candace is always trying (unsuccessfully) to get her to see what the boys have been up to. Voiced by Caroline Rhea.
Categories: Toons
Created on the: Wii
3DS Instructions:
Start a new character from scratch and make these changes.
Gender
Female
Head
Skin Color: 2nd from the top
Hair
Type: 7th page, 3rd row, 1st column
Color: 4th from the top
Eyebrows
Type: 1st page, 2nd row, 3rd column
Rotate: 2 clockwise
Size: 3 smaller
Horizontal: 2 wider
Vertical: 2 up
Eyes
Type: 4th page, 3rd row, 2nd column
Color: 5th from the top
Nose
Size: 1 smaller
Mouth
Type: 1st page, 1st row, 2nd column
Size
Height: 83%
Weight: 16%
Nickname
Linda F.
Mii Creator
Fer