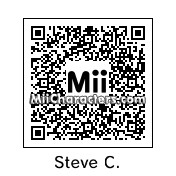 Mii Plaza Name: Steve C.
Created by: kitty kat
Comedian and actor best known for his time as Michael Scott on "The Office". Movies include as "The 40 Year Old Virgin" and "Evan Almighty".
Categories: Stars
Created on the: Wii
3DS Instructions:
Start a new character from scratch and make these changes.
Gender
Male
Head
Type: 1st row, 2nd column
Facial Structure: 4th row, 1st column
Skin Color: 2nd from the top
Hair
Type: 4th page, 4th row, 2nd column
Color: 1st from the top
Eyebrows
Type: 2nd page, 2nd row, 2nd column
Color: 1st from the top
Rotate: 4 clockwise
Horizontal: 1 narrower
Vertical: 4 up
Eyes
Type: 2nd page, 1st row, 1st column
Color: 3rd from the top
Rotate: 1 counterclockwise
Size: 2 smaller
Horizontal: 1 narrower
Vertical: 2 up
Nose
Size: 4 bigger
Vertical: 1 up
Mouth
Type: 1st page, 2nd row, 1st column
Size: 1 smaller
Size
Height: 71%
Weight: 23%
Nickname
Steve C.
Favorite Color
2nd row, 5th column
Mii Creator
kitty kat
Alternative Miis