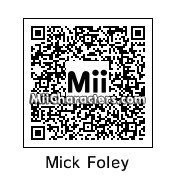 Mii Plaza Name: Mick Foley
Created by: Poor Man
Pro wrestler best known for his extreme matches and his personas: Mankind, Cactus Jack, and Dude love. He's also an author and never misses a cheap pop or a shameless plug.
Categories: Sports
Created on the: Wii
Check Mii Out: 1794-4224-8428
3DS Instructions:
Start a new character from scratch and make these changes.
Gender
Male
Head
Type: 3rd row, 2nd column
Make-Up: 4th row, 2nd column
Hair
Type: 9th page, 2nd row, 2nd column
Color: 3rd from the top
Part: Flipped
Eyebrows
Type: 2nd page, 1st row, 1st column
Rotate: 7 clockwise
Size: 3 bigger
Horizontal: 2 narrower
Vertical: 8 down
Eyes
Type: 3rd page, 1st row, 2nd column
Color: 6th from the top
Rotate: 1 clockwise
Size: 1 bigger
Vertical: 2 up
Nose
Type: 2nd row, 2nd column
Size: 1 bigger
Vertical: 2 up
Mouth
Type: 2nd page, 1st row, 1st column
Color: 3rd from the top
Size: 1 bigger
Beard
Type: 2nd row, 1st column
Mustache
Type: 1st row, 2nd column
Size: 4 bigger
Vertical: 5 down
Facial Hair Color
Color: 3rd from the top
Size
Height: 61%
Weight: 100%
Nickname
Mick Foley
Favorite Color
2nd row, 6th column
Birthday
June 7th
Mii Creator
Poor Man